Contact Template
Contact Management Software for business and organization contacts and communications. If this custom database happens to match your requirements then it can be purchased  support & source code included.  Optionally, we can create a custom-designed contact management software solution that matches your particular requirements.Contact with customers, clients, and vendors all need to be managed and tracked so that your business or organization will operate efficiently.Missing a follow up call can lead to a lost sale or a disgruntled client.
The Access contact template database was designed to provide multiple views of contact information.  The multiple views include screens to review contacts by  associations, events and projects.
Contact management template's  key components include a screen that provides for cross category selection of contacts for distribution of communications – by email, mailing labels, or faxes.  Our Access contact management database additional key features include the following:
Manage contact master list

Assign contacts to many projects

Associate contacts with events

Relate people to associations

Flexible query software across several groups

Output to mailing labels & emails with attachments

Produce invoices and manage payments

Output various management and status reports

Completely data driven with all lists user-maintainable
Contact Management Template Major Functions:
Below is the main menu Welcome screen the for custom contact management system.  This form demonstrating a seamless, user friendly contact management database interface.
Nearly all of our template software have a similar user friendly tabbed interface.  There are no popup switchboard menus or nested menus to confuse the user.  All functions are immediately available and when appropriate tabbed forms are coordinated so that the user doesn't need to find a record again when moving from tab to tab. This user interface design reduces database training and support requirements.
Management of contact profiles is a key aspect of any contact manager software. Below is the 'People Manager' screen for the custom contact management database. All aspects of each contact can be managed from this one form. Embedded tabs provide easy links to Projects, Events, Associations and Expertise data entry. Also note that emails may be sent automatically to each contact by pressing the 'Send an Email' button.  These features facilitate communication with your customers – see below in the contact management database communications form.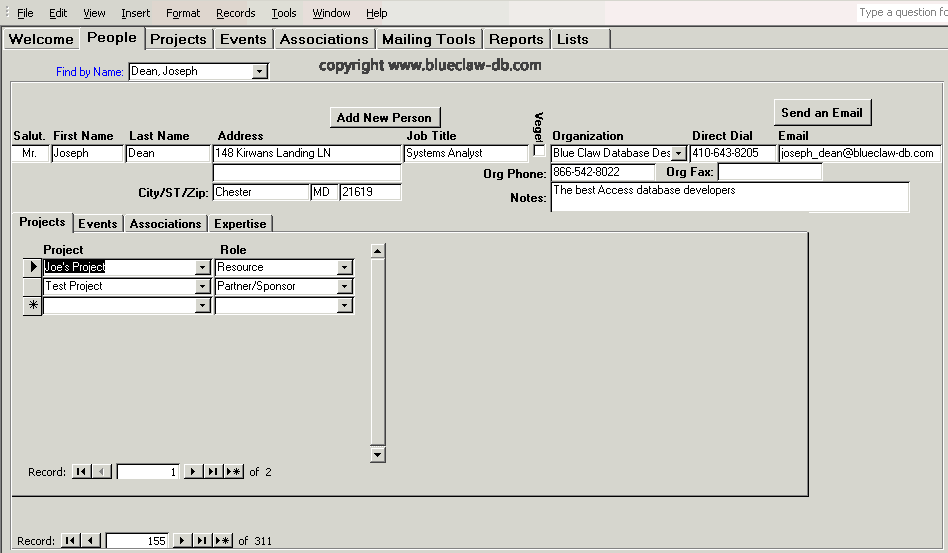 There can be an unlimited number of projects defined in the software and contacts may be assigned to several projects.  Below is the database form used to management of contacts by project.  Management of project participants and roles and responsibilities offers increased functionality for this contact management software system. Below is the form used to manage project members:
Contact event tracking, invoicing and payment reconciliation is managed in the Events table of our Contact Manager system.  Emails, USPS mail & faxes can auto magically sent for each attendee by event or multiple events.  Shown below is the primary interface for the management of events, event schedules and event attendees.  The mailing tools tab provides the query features needed to communicate to specific attendees by group or category using efficient event attendee selection on the custom search criteria screen.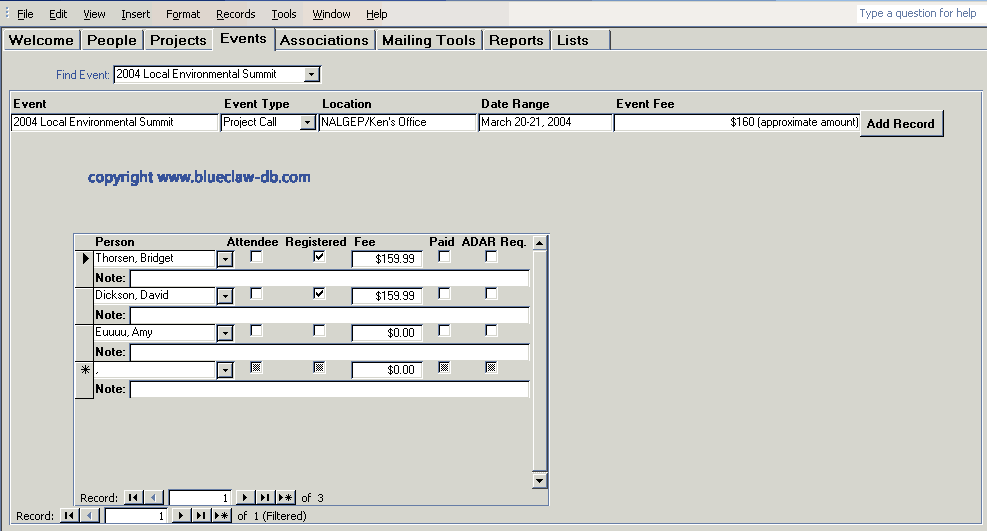 Member association affiliation and management & association categorization offers an additional level of customization for this contact manager software case study.  Each person can belong to one or more associations.  This customer category functionality provides another way to associate each customer contact and to use this categorization to send communications directly to subsets of the entire contact manager software: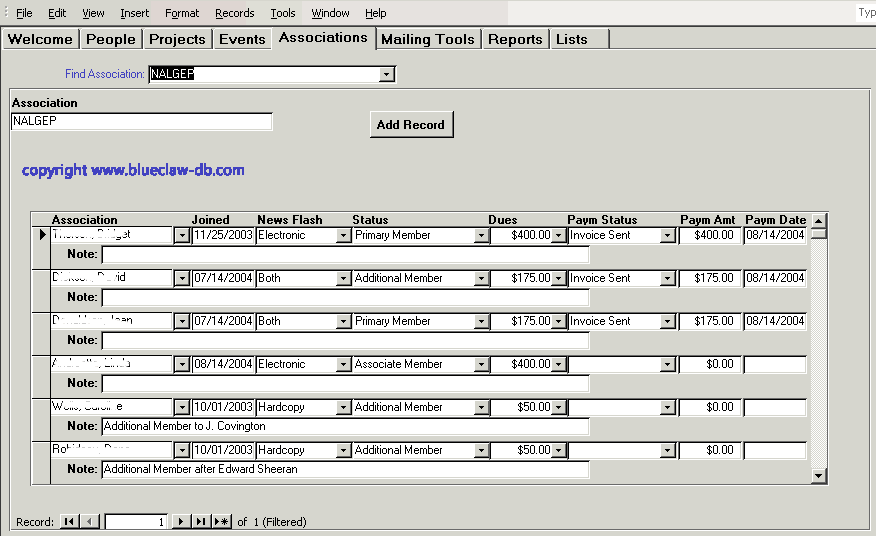 The Mailing Tools function of the Access contact management software offers a query interface for users to select a subset of the contacts and members within the  Contact Management software case study with unparalleled power and flexibility – all with a user friendly, intuitive interface.
A few clicks of the mouse allows select of thousands of combinations of contact characteristics.  Communications can be sent to spreadsheets for further process, Emails with and without attachments, and optionally faxes.
Customer contact and communication tools are exemplified here.  In this screen we are sending emails to a member contacts.  You can see on the right side of the form a subject line for the email 'Announcement:…', and a message body asking the recipient to attend the meeting at a specific location and time. Optionally, an attachment to the email may be specified – in this case we are sending a PDF document detailing the meeting agenda.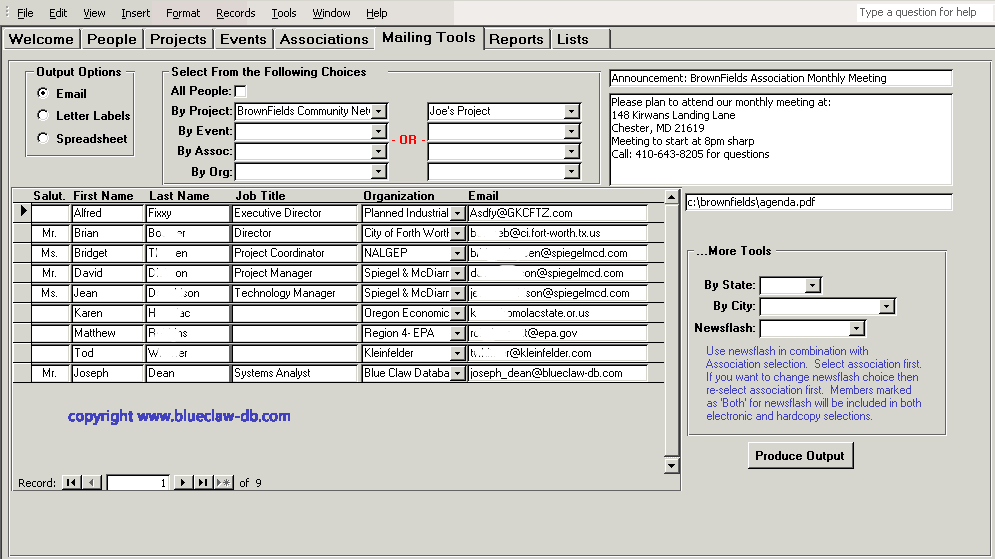 The expandable lists feature is implemented in the 'Lists' tab of our contacts manager system. Here we provide the user with the main tool for customizing our data-driven database system.  As you can see in the screen image below, all list choices are infinitely customizable by the user (appropriate user-controls have been implemented).
To add longevity and speed, all lists use numeric index pointers to serve as lookups to the actual list containing the textual data.  This technique gives the contact management template a highly compact structure that will be able to contain many thousands of contacts without any decrease in performance: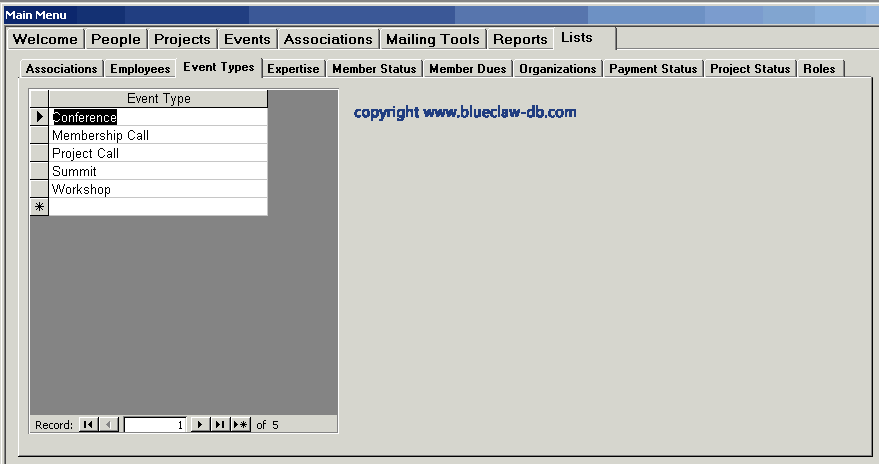 Additionally, our MS Access contact management template has a simple user security system which works off of the user's network login name. This system bypasses Access's clumsy implementation of database security.
Our Access Contact Management Software is a favorite replacement for many users of Act! software.
Download a demo version of the Contact Management Database.  You must have Microsoft Access 2007 or higher installed on your computer.
For Free Templates Please Submit